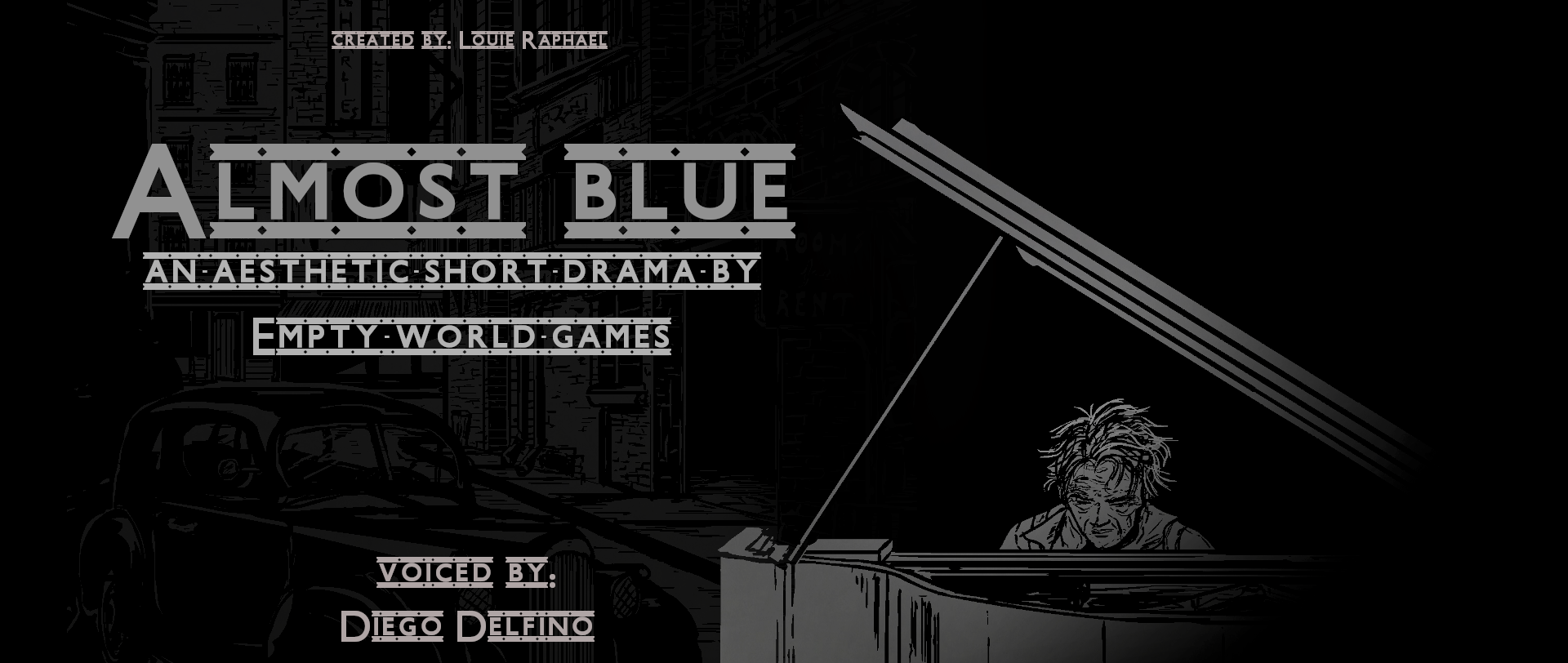 Almost Blue
ALMOST BLUE

An aesthetic short drama.


A full voiced mini point and click puzzle game, set in a little 50ies road, where memories, imagination and reality may be the same thing.

Wearing headphones is strongly recommended! :)



HOW TO PLAY:
Mouse Left Click: Navigate, collect, equip and use items.
Mouse Right Click: Drop equipped items
FEATURES:
. Hand drawn backgrounds, in a italian school comic style

. Immersive jazzy and noir atmosphere
. English and Italian FULL VOICE ACTING.
. Original Cool Jazz classics


CREDITS:
Music:

Miles Davis - I fall in love too easily
Billie Holiday - I get along without you very well
Cheryl Bentyne - I'm a fool to want you (Mentioned as fictional "A. Cureau")
Chet Baker - My funny Valentine
This game is totally free, no money is received through the use of these tracks.
------------------------

Art design / story / programming: Louie Raphael
English translation: Diego Delfino
Voice Acting: Diego Delfino
Special thanks: Umberto Parisi (Psycho-Dev)
HELP ME TO CREATE MORE AND FASTER:

This game is totally free, but it took a lot of work, time and energy! If you like my ideas/projects/arts, please consider making a donation: you will help me to create more games!
| | |
| --- | --- |
| Status | Released |
| Rating | |
| Author | EmptyWorldGames |
| Genre | Puzzle |
| Made with | Adventure Game Studio |
| Tags | 50ies, artgame, Black and White, Escape Game, Hand-drawn, old-school, Point & Click, Singleplayer, vintage |
| Average session | A few minutes |
| Languages | English, Italian |
| Inputs | Mouse |
| Accessibility | Subtitles, One button |
| Links | Instagram: |
Install instructions
INSTALL INSTRUCTIONS:
No installation needed! Just unzip and play.
IMPORTANT:
. Do not use Alt + Tab. It may cause game crash, and I cannot resolve it at the moment. . If you have issues with the mouse speed or resolution, you can easily fix them in the Gamesetup located in the folder.

HELP ME TO CREATE MORE AND FASTER:

This game is totally free, but it took a lot of work, time and energy! If you like my ideas/projects/arts, please consider making a donation: you will help me to create more games!
Comments
Log in with itch.io to leave a comment.
I assure you that this is the simplest game I've ever made. ;) A walkthrough would kill the experience. Keep trying! And thanks
I completely agree, the game is too opaque from the very beginning.
I am a giant fan of first person point and click puzzle games which sadly are quite rare nowadays. This was my first time playing a game by EmptyWorldGames.

Almost Blue gives off vibes slightly similar to Mateusz Skutnik's Covert Front series while at the same time maintaining a unique style and atmosphere. The art is great and it really makes you feel like you are in a noir comic.
I liked the puzzles, they were smart and not tedious. I would say they are on the easier side compared to similar games but that probably works in the game's favor as a short and casual experience.
The story is communicated through subtle and cryptic hints which is fine for the most part, but I think some more story clues could have helped as you never get a clear idea of what really happened.

The game does have some 'rough edges'. Like the inventory could look a lot better and the font is pretty hard to read but those are of course just nitpicks.
Overall, Almost Blue was an enjoyable short experience with smart puzzles and a very nice atmosphere and I am looking forward to playing the developer's other games!


Thank you so much, really! Skutnik is my spiritual master, I absolutely love how you have noticed his influence on my creations. <3
On writing: yes, little details, a very strong context and few dialogues are in my opinion a good way to tell a story when a point & click as this one must be focused on gameplay first of all. The atmosphere is my rule n1.
On font resolution and other hateable things (save system for example): That's because of the tool (ags) and basically because I'm not a good programmer. I'm looking for a teammate in order to resolve a lot of things in this way ;)
In this months I'll start working on a bigger hardboiled noir game and Almost Blue is a "starter dish" to test how the public reacts to this style!
Thank you again
Louie - EWG
As Usual Gameplay from Z9ZGAMES Channel!!
With All Thanks to the Creator of the Game!!